Sir Dove-Myer Robinson statue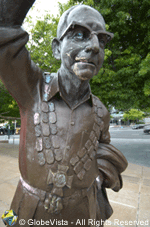 Public Art: Sir Dove-Myer Robinson statue
Sculptor: © Tobias Twiss
Description: The life-size (yes, life-size!) bronze of the colourful and eccentric Sir Dove-Myer Robinson. Sir Dove-Myer Robinson known as Robbie was Auckland's longest running mayor. He is depicted with a fisted in the air and coat slung casually over left arm. Both hands are clenched… this man means business. It is by no accident that the statue is facing the Auckland Council building.
Date Unveiled: The Dove-Myer statue was unveiled in 2002. It was his niece, Dame Barbara Goodman, who spearheaded a campaign for the statue to be erected.
Location: The Sir Dove-Myer Robinson statue is located in Aotea Square, Auckland, New Zealand.
Inscription :
Sir Dove-Myer Robinson Auckland City Councillor 1952 – 1959 Mayor of Auckland City 1959 – 1965 & 1968 – 1980 Sculptor: Tobias Twiss Cast by Frank Watson & Tobias Twiss.
Controversy: It wouldn't be right if there wasn't some sort of controversy surrounding the Sir Dove-Myer Robinson statue. It wasn't so much the statue as it was the location. The trouble was he was placed facing the Council Offices waving his fist. This made some feel quite uncomfortable.
Interestingly, the alternative design would have had Sir Dove-Myer Robinson depicted shirtless and walking to work. Either way I am sure he is bemused.
So who was Sir Dove Myer Robinson? : Known by most New Zealanders simply as "Robbie", Sir Dove Myer Robinson (15th June 1901-14th August 1989) was the longest running Mayor of Auckland City. He held the position from 1959-1965 and from 1968- 1980. Born Mayer Dove Robinson in Sheffield, England, he and his family moved to New Zealand when he was 13. Probably due to the anti-semitic bullying, he endured at school in England, Dove-Meyer rejected Judaism as a teenager and became a lifelong atheist.
During the 1920's he sold new and second-hand motorcycles and in 1930 set up Robinson's Motor Cycle and Bicycle Depot. Despite the hardships during the depression the business survived and later expanded to include cars.
In the 1940's he had his first taste of politics when he fought against a sewage dumping scheme that would have resulted in untreated effluent being discharged into the Hauraki Gulf. A few years later he was instrumental in establishing a scheme to breakdown sewage naturally in oxidation ponds near the Manukau Harbour. These ponds became known as "Robbie's Ponds" and were in operation until 2003. This would be considered one of his greatest legacies.
In 1953 he was elected to the city council and following his success with the sewage ponds he was propelled into the Auckland mayoralty in 1959. Despite being short in stature he well made up for it with his colorful personality and big booming voice.
By the time he became mayor in 1959 he was on his 4th marriage and the new wife, Childswear executive Thelma Ruth Thompson, was none too happy about him continuing as mayor beyond two terms. Needless to say, the marriage disintegrated and turned into a public scandal. Opposition parties pounced on the opportunity and Dove-Meyer found himself out of a job and wifeless following the 1965 elections. After three years in the wilderness, he bounced back and regained his position as Mayor of Auckland and stayed there for 18 years.
On the 14th August 1989, Sir Dove-Meyer Robinson died at his Remuera retirement village.
Trivia: Sir Dove-Myer Robinson and John Banks have been the only Auckland mayors to regain office after being defeated.
In the 1930s for a short time, Dove- Meyer was a sidecar racing champion.
In the 1970s Dove-Meyer pushed for a 'Robbie's Rapid Rail', an inner-city light rail network but a change of Government put a stop to it.
He was knighted in 1970.
In 1972 'Robbie' shocked and bemused audiences around the world after he appeared shirtless on the British documentary series, Whicker's world. That was evidently how he walked to work.
He has been described as a "slight, bespectacled man whose tiny stature was offset by a booming voice and massive ego"