Public Art: Time Is A River monument
Sculptor: © Terry Reynoldson
Description: This project is part of a community recognition garden and took 10 months to complete. It consists of 5 carved basalt columns with a combined weight of 40,000 pounds (20 tons). The largest sculpture weighs 11,500 pounds (5.75 tons) and measures 40 inches high by 8 feet long by 32 inches in depth. Terry used a 120-ton crane to place the work in the park.
Onto 2 of the sculptures, Terry carved 114 names of local businesses and individuals whose achievements have been recognized by the citizens of St. Albert. The names run the gamut of the city's 150-year history from Father Albert Lacombe to more recent contributors like former city councillor Carol Watamaniuk. Over the next 25 years, approximately 300 more names will be added until each sculpture is filled.
Inspired by the Sturgeon River, the wavy, displaced ribbons that Terry carved into each boulder create a sense of fluidic movement and suggest the motion of waves. The image of a river is a well-known metaphor for the passage of time. In an extended sense, a river may also represent the impact that individuals have within their community.
Terry explains this relationship, "All human activity, constructive or destructive, has wave-like properties because it radiates outward from its source to influence everything around it: like ripples on a pond. These sculptures pay homage to those whose actions have made a positive impact on others and, in so doing, have made their city a wonderful place in which to live."
Date Unveiled: The Time is a River monument was unveiled on 14th July 2011. Over 350 attended the unveiling. During the unveiling Mayor, Nolan Crouse told the crowd that there was more to come in the years ahead "We will continue to honour them, and we will continue to etch their names [there] forever,". In his 24 minute speech, Mayor Crouse read out all of the names on the monument, along with a brief description of each but in his excitement accidentally missed pottery teacher and philanthropist Nell Sadee, to whom he later apologized.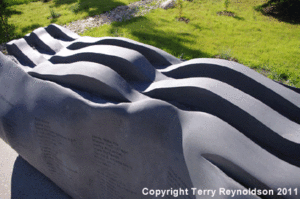 Cost: $160,000
Location: The monument can be found on the corner of Perron Street and Sir Winston Churchill Avenue, St Albert, Alberta, Canada.
Acknowledgements: Thank you to Terry Reynoldson for supplying photographs and information for this page.
List of Names on Time Is A River Monument :
David Geddes
Mrs. John (Bridget) Flynn (d)
Dr. Arthur & Alice Giroux (d)
Sr. St. Joseph of Arimathea (d) Grey Nun
Emile Tardif, O.M.I. (d)
Florence Lefebvre
Ruth Horne
Arlene Borgstede
Ray Pinco
Lewis Lavoie
Francis Schuchard
Dr. Lilian Upright
Gerry Buccini
Nell Sadee
Carol Watamaniuk
Pat Wagensveld
Andy Michaelson
Joanna Drummond
Deirdre Allen
Larry Mitchell
Ruth Moellenbeck
Gareth Jones
Laurie Hunt
Edith Martin
Dan Stoker
Mark McTavish
Founders of Lo-Se-Ca Foundation (Armand & Ferne Carignan,Gaston & Ada Curial, Victor Douziech (d), Keith & Patricia Hamilton,Kay Krupa (d), Nick & Mary Muntjewerff (both deceased), Yvonne Simpson, Arnie & Marguerite Sprogis)
Albert Lacombe, O.M.I.
Michel Normand (d) and Rose Plante (d)
Adèle Lamy, s.g.m. (d) Grey Nun
Zoé Leblanc-Emery, s.g.m. (d) Grey Nun
Marie Jacques-Alphonse, s.g.m. (d)
Christine (Lacombe) Harnois (d)
Vital Grandin, O.M.I. (d)
The Métis
The engagés
The Oblate Brothers
Brother Anthony Kowalcyzk (d)
The Grey Nuns
Hippolyte Leduc, O.M.I.
Samuel Cunningham (d)
Daniel Maloney (d)
Alfred Arcand (d)
David Chevigny (d)
Fleuri Perron (d.)
Michel Mérer, O.M.I. (d)
Joseph Leonard (d)
Jacob Mauchle (d)
Walter Veness
Lucien Boudreau (d)
Henry McKenney (d)
Alphonse Jan, O.M.I. (d)
Marie Wolniewicz(d) (pronouced 'Wonaway')
Michael Hogan (d)
Susie Atkinson (d)
George Gaulin (d)
Neil M. Ross (d)
Lorne Akins (d)
Charles Joyal (d)
Bert Sumner (d)
Maurice Roberge (d)
Harold Vague (d)
Ted Tétreau (d)
George and Rose Lee (d)
Dan Richardson (d)
Leo Nickerson (d)
Allan B. Blair (d)
William J. Veness (d)
Sadie Ross (d)
Ed Savoie (d)
Henry Terrault (d)
Pauline Vaugeois
Ethel Cuts
Don Horne (d)
Carol Rankin
Bernie & Alfreda Melik
Jean and David Folinsbee
Sandra Fenton
Wayne McCutcheon
Dieter Knobloch (d)
Margaret Plaingaret
Ann Conlin
John Beedle
Richard Plain
Elke Blodgett
Len Bracko
Ted & the Hon. Lois Hole
Richard Fowler
Hu Puffer
Bob Russell
Doug Ritzen
Ernie Jamison (d)
Sue Gawlak (d)
Rosanna Lafranchise (d)
André Gate (d)
Victor Fernandez
Joe Benoit (d)
Hector Gervais (d)
Eddie Joyal
Troy Murray
Neil M Ross Truck Service
Perron's General Store
Hutching's Shoes
Klondyke Inn
Danny & Sons Auto Service
Hole's Greenhouse & Gardens