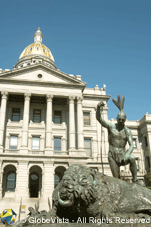 Public Art: Closing Era statue
Sculptor: © Preston Powers (1843 – 1931)
Date: 1893
Location: East lawn of the Colorado State Capitol building, Denver, Colorado.
Description: The bronze statue depicts a native Indian standing triumphant over a dying bison. The granite used for the base was from Cotopaxi, found in Fremont County (Colorado). The poet John Greenleaf Whittier, a close friend of Preston, wrote the poem which is located on the base.
Commissioned by: A group called the "Fortnightly Club".
History: In the late 1890s a group of real estate investors came up with the idea of commissioning a sandstone statue to be placed in Perry Park, Denver, as a way of making the area more attractive for potential property buyers. The investors must have been far too busy selling properties to follow through with the idea, but in all the excitement they planted the seed for a group known as the "Fortnightly Club". Led by two enthusiastic women, Mrs E.M. Ashley and Eliza Routt, the group saw the project as a perfect addition to the State's exhibit at the 1893 World's Fair Exposition in Chicago. Before long they had commissioned Preston Powers (son of well-known sculptor Hiram Powers) to create the sculpture. Following the World's Fair, the statue was placed on the east lawn of Colorado's State Capital building, where you can often find wayward squirrels playing around it. John Greenleaf Whittier is credited with naming the sculpture "Closing Era".
Inscription:
The Poem by John Greenleaf Whittier
The mountain eagle from his snow-locked peaks
For the wild hunter and the bison seeks,
In the chang'd world below; and find alone
Their graven semblance, in the eternal stone.
Things You May Not Know:
In 2015 the bow was stolen and the statue damaged. The culprit must have got the fit of the guilts because the bow was later found tossed over District 2 police station fence.
Preston Powers was born in Florence, Italy. His father Hiram Powers (an expat) kept Preston safe in Italy during the Civil War, fearful he would be drafted. He would eventually follow his father, back to the USA to begin working as an artist, but only for a short time. When his father died in 1873 he was horrified to learn that his mother had inherited everything. His mother, not being as near as generous as his father, cut off financial support. In retaliation he sued. To keep the peace, Preston was made supervisor of his father's workshop and studio in Florence. This was short lived as it closed 5 years later. Preston, apparently still seething over his father's will, set up a workshop across from his mother house and continued to harass her relentlessly. Forever living in his father's shadow and at odds with his family, Preston eventually died penniless. He was buried in a paupers grave in Allori Protestant Cemetery.
References:
Missing bow from historic Denver statue found on Friday By ELIZABETH HERNANDEZ, The Denver Post
PUBLISHED: September 4, 2015